Cartagena Hilton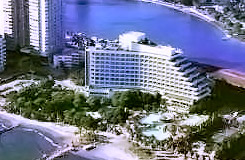 The Cartagena Hilton Hotel offers true luxury in one of the most beautiful settings in Latin America. This modern structure located on the El Laguito Peninsula and contains every amentity neccessary for a very comfortable stay. The tastefully colored rooms include King or Twin beds, AC, balcony, clock radio, hairdryer, Safe, telephone with voice mail, TV with HBO, CNN, and ESPN. Smoke detector, Internet Access, and a separate telephone in the bathroom.
Not only are the rooms spectacular, but the hotels grounds are just as impressive. For great dining you do not even have to leave the hotel. The Cafeteria Las Chivas resturant offers a great ocean view with your tasty breakfast, lunch, or dinner. The Tinajero Steak & Seafood is the best steakhouse in Cartagena and offers delicious grilled seafood and meat in the local style. Lastly, if you want to enjoy brunch, lunch, or just a snack in a garden-like outdoor setting, try the Kiosco Tibabuyes for a burger, or just a drink.
This Cartagena hotel offers many services such as laundry, beauty care, foreign currency exchange, and room service. Obviously, you want to enjoy the water while you are here. For serious outdoor excitement, rent a jet ski, or water skis and ride the waves. If you want something more relaxing, recline poolside with a good book. If you are the athletic type, join a basketball game, or if your special lady plays tennis, ask her for a lesson.
Hotel Capilla Del Mar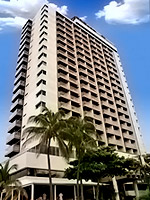 The impressive Hotel Capilla Del Mar is a 22 story, 200 room structure that hosts the Cartagena tour attendees and is surrounded by cafes, catinas, and nightclubs. This recently remodeled hotel in Cartagena offers cable TV, room and laundry service, electronic locks on the doors, as well as a balcony with each room.
When you are ready for a great meal, try the Las Ninfas which offers ocean views in a relaxing setting. If you want fine dining, then head to the Toca de Oro with your date for a wonderfully romantic meal. For good music, trek up to the very top of the Capilla and enjoy a beautiful sunset at the rotating bar.
For guys who want to keep up with their exercise regiment, the hotel offers a fitness center on the 4th floor, and a pool on the 22th floor. If your visit to Cartagena is a working vacation, the Hotel Capilla houses a business center area with a fax machine. When the work is completed and it is time to relax, try the hotel's inexpensive massage service.