Contact

All Women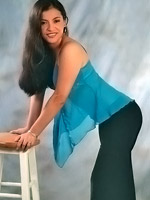 ForeignWomen.com is now offering a great new beneficial service that will quickly help you determine which ladies are interested in you in the most efficient way possible.
Our Contact All Women service eliminates time consuming process of researching 1,000's of ladies profiles, and sending a specific email to each lady. You will now only need to compose one form letter/email that will be sent to all Russian, Asian, and Latin women who have joined this website.
Whether you are interested in women from Russia, Ukraine, Eastern Europe, Latin America, the Philippines, or simply want to communicate with many women the world over, they are all here and looking for someone special.
It could well be a very time consuming effort to investigate every profile that catches your attention.
You could spend weeks researching all the women who interest you, and composing a specific letter to dozens of those ladies, then waiting for their responses. After some time of correspondance, you may discover that there is no spark between the two of you.
At this point you would have to start the process over again. If you follow this pattern, it could take months to establish a real relationship. With our service, you instantly discover who is interested in you. This narrows down the field quickly and allows you to find your special lady sooner, rather than later.